Crypto Miner 0.2.225 Details
---
Publisher Description

This project aims to be easy to use crypto-currency miner with support of major miners and coins. In this second alpha version mining of Monero (XMR) and Aeon (AEON) coins is supported on both CPU and GPU. Monero stratum pool address, username (wallet address) and password is required to start using this (and any other) miner. Hash rate and results count is reported in simple UI, detailed progress can be seen in console. Any suggestions are welcome.
Download and use it now: Crypto Miner
Related Programs
---
Crypto 2000 is a small, easy to use, Windows file encryption utility. Simply drag and drop files and folders to quickly protect your sensitive documents and information, and then enter an encryption key to encode and decode the files you...
---
Screenshot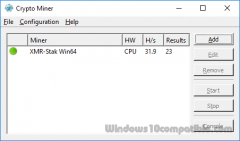 ---
---
Details
Follow us:
Size:

7.75 MB

License

Freeware

Cost

$0

Operating Systems

Windows 10

Release date

27 Mar 2018

Publisher MartinK
---
Top Downloads (last week)
Keywords